Knowing When to Take the Leap: Shifting from Renting to Buying A Home
When the time to move out on your own comes, most people will start with renting an apartment to save money and work towards other financial goals. With your apartment or home rental, you have a little bit more flexibility to change careers and move onto a new city for the next adventure. However, there will be a time when the will to have your own place becomes too strong to ignore, and you feel like you are in the right time and place to settle down and buy a home. But what are the signs, and how can you tell that the time is right for you to make the shift?
Read on and refer to the following infographic for some of the signs that let you know it is time to shift from renting to buying a home: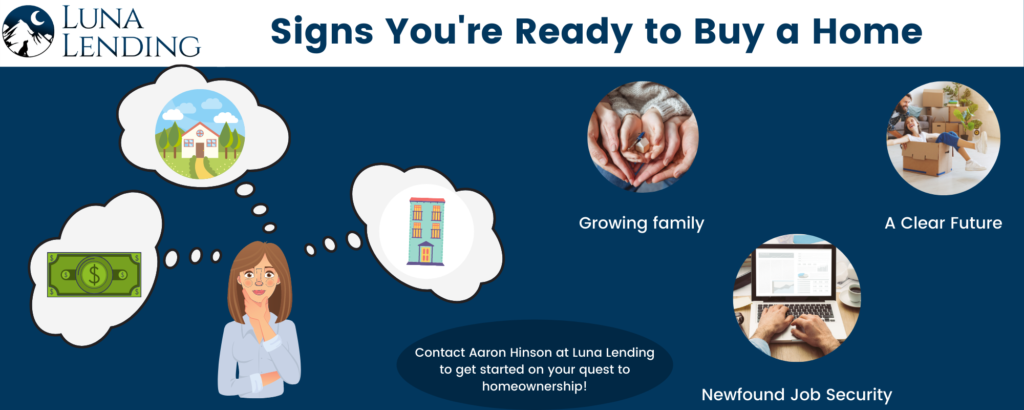 One key component of making the shift from renting to buying a home revolves around your career and finances. You may find it easier to make mortgage payments on time and have a sense of financial stability if you are working a stable job. As long as you feel like you are at a place where you can cover the known costs and the potential unforeseen costs of homeownership, then the time is right to make the transition.
In the current economic climate, people have been embracing a more transient and flexible career path. They have embraced the idea of searching out the newest and most exciting career opportunity, no matter where exactly that job may take them. Renting allows for an easier transition from city to city due to the lack of substantial long term commitments. However, once you have found that job, company, or opportunity to stop jetting across the country, searching for the next career-high, settling down, and buying a home becomes a viable and attractive option for the weary traveler.
Some people have a certain way they see their life playing out. They see the lovely house, the white picket fence, a couple of kids, and the family pet. It's the classic American Dream that people have subscribed to since the 1950s. When you leap from renting to buying, that idyllic dream home comes down to your level of comfort. Take stock in your current situation and how it can potentially evolve, and then decide whether it is time to buy that home and start cultivating that long-lasting American Dream.
Whether you are purchasing a dream vacation home or finding the home you want to settle down in for the long haul, Luna Lending can help! Our experienced mortgage brokers will help you navigate through the ins and outs of long-term or summer and winter home mortgages and have you prepared to make the most of your transition into homeownership!
AHL is an Equal Housing Opportunity Broker.
NMLS: 134718 | CalDRE 02067377 | NV 65339 | CO 100055620